Managed Services
Our managed services offerings enable customers to offload their IT and network responsibilities to a team of experienced network professionals, increasing network reliability and cutting costs. We offer a range of managed services, and can provide a customized offering to support any customer's needs.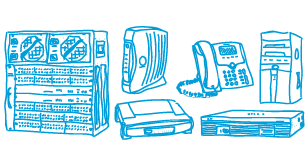 Featured Tour
Managed Networking


Core & Access Networking

Managed Security


Firewalls & IP Security

Managed Desktops


Client Support & Services

Managed UC/Voice


VoIP & Email

Managed Physical Plant


IP Video & Access Control
Uptime Matters
Having a reliable, redundant network was once a luxury. Now, it's a requirement. Your day-to-day business requires your network to be always-on, and always-available.

Routers, switches, content filters, intrusion detection systems - managing all of these devices can become a challenge, but neglecting your network can be a liability. Add in remote offices, teleworkers, and 24/7 availability, and suddenly a simple network becomes complex.

With Netgrade Managed Networks, we take care of the management and monitoring, so you can take care of running your business.


Why Netgrade Managed Networks?
Having experienced professionals monitor and support your network means having your systems running at peak performance at all times. Our proactive management approach means your network will be continuously monitored and maintained to prevent issues from developing in the first place. And, should issues arise, you will have quick and reliable access to technicians who know your network and can quickly resolve incidents.


Performance Metrics
In addition to proactive monitoring and troubleshooting, Netgrade Managed Network services provide you with detailed reports that include key metrics indicating network availability, performance, latency, and more - the information you need to know what's working and what isn't. We can use this information to ensure your network is meeting demand, and help you scale in both directions as your requirements change.


Managed Security
The more devices you have on your network, the harder it is to keep everything up to date. Netgrade Managed Network services will ensure your devices are running the latest software and patches, including IOS updates, malware signatures, and intrusion profiles. Staying up to date makes your network more secure, as bugs and vulnerabilities are fixed as they are discovered.


Centralized Management & Troubleshooting
Netgrade Managed Network services monitors the whole extent of your networks, including inter-site WAN links, telecom services, and more. When an incident requires repair from a service provider, Netgrade Managed Network services can autonomously work directly with the provider to coordinate the request - reducing the time you need to devote to troubleshooting and getting you a quicker resolution.
Deadbolt your digital doorstep
Each device you add to your network represents a method of entry for those who wish to do harm. By keeping your network secure, you are protecting your organization against costly and harmful information leaks and vulnerabilites.


Network Security
Our Managed Security solutions make use of a combination of firewalls, content filters, and intrusion detection/prevention devices to protect your organization at the network edge. And, with proactive monitoring and signature subscription services, this protection can remain up to date at all times, protecting you from new threats as soon as they are discovered.


Email Security
Email has become one of the most important and business-critical forms of communication, with many organizations receiving and sending tens of thousands of messages each day. As such, it is important to make sure your business' email flow is adequately screened for spam, viruses, and malware. Our email security services can filter out bad messages, protecting your infrastructure from damage before messages have a chance to hit an inbox. Meanwhile, anti-spam filtering increases productivity and rescues time spent sorting through junk email.


Wireless Security
As users rely more and more on ubiquitous WiFi coverage, wireless security becomes one of the most important components of any security assessment. Historically, incorrectly- or inadequately-configured WiFi networks have been one of the most serious network vulnerabilities. Our wireless security services include the implementation of enterprise-grade encryption, authentication, and accounting systems to ensure your WiFi network is both convenient and secure. Further, our BYOD (Bring Your Own Device) solutions can ensure that users are able to use their own devices on your corporate network in a secure and controlled manner - pleasing users and IT at the same time.
Every user has a computer - but can you support them all?
Many organizations realize the need for always-available IT support, but do not have the resources or necessity to employ a full help desk staff.

Our Managed Desktop services give you direct access to a dedicated, US-based support team that is there when you need them.


Remote & Onsite Support
Depending on the size and needs of your organization, we can offer both onsite and remote support for your users. Sometimes, a phone call isn't enough to respond to an incident. Our technicians can come on site to troubleshoot issues, work with users, and get problems fixed.

In some cases, a geographically-distributed or mobile workforce requires expert remote support. We can provide around-the-clock remote support and troubleshooting, anytime, anywhere.


System Updates & Patch Management
Just as important as supporting users is keeping systems up to date. With Managed Desktop Services, we can keep your workstations up to date with the latest updates, patches, and bug fixes - helping to prevent issues from occurring in the first place.
What is UC?
Having a phone on the desk was once good enough - not anymore. Unified Communications (UC) refers to the combination of various modes of communication into a synchronized, integrated solution. UC includes phone systems, voicemail, email, instant messaging, and more.

Implementing UC solutions means your employees and customers are more easily connected, no matter when and where. And a well-implemented UC solution can greatly reduce time spent putting your customers in touch with the contacts they need to get what they are looking for.


Phone Systems and Voice over IP (VoIP)
Implementing a VoIP phone system can not only save you money, but can greatly improve ease of communication within your organization.

VoIP systems operate over existing data networks, including the internet, which means there are no limits to the extent of your communications network. Remote offices, teleworkers, and road-warriors can be as connected and available as they would if they were sitting in the office, and FindMe and Single Number Reach features can reduce the time it takes to get in touch with whoever you are calling.

And, since VoIP can interface with a multitude of internet-based service providers, huge savings can be realized from the elimination of costly analog phone services.


Email
Integrating email into a UC solution means making more information readily accessible. Our UC configurations can include voicemail integration with your email inbox, allowing new voicemails to be instantly delivered to your computer and mobile device wherever you are. Conversely, text-to-voice applications can enable users to call into their voicemail and have appointments and email messages read to them on the go.


Instant Messaging
Previously viewed as a novelty, instant messaging is now widely recognized as a very efficient means of communication both intra- and inter-company. However, allowing users to utilize public, consumer-level IM services can result in security concerns and loss in productivity.

Implementing business-class instant messaging solutions can provide your organization's employees with the ability to instantly communicate, while ensuring communications remain secure and subject to the same policies and guidelines that govern the rest of your UC solution.
Managed Physical Plant
Unfortunately, the need to secure and monitor physical premises becomes more of a concern each and every day. With Managed Physical Plant services, you can ensure your locations are secure and visible at all times.
IP Video
We offer a wide range of IP Video solutions to meet a variety of security concerns. Our IP video solutions integrate high-quality HD video with easy to use surveillance packages. And, because our IP Video solutions utilize your existing data networks, cost can be greatly reduced by leveraging existing hardware. Plus, our IP video solutions allow you to remotely and securely monitor your premises from anywhere in the world, any time of day.
Our IP Video solutions include:
IP Network Cameras (Day/Night, Pan/Tilt, Extreme Environmentals, Thermal and IR, Long Range, and more)
IP DVR (video recording) solutions with scalable size and retention
Geographically-separated solutions - (e.g. Law Enforcement, Transportation, Retail)
Video-wall and security booth solutions
Access Control
Our IP Access Control solutions allow for real-time management and security of rooms, buildings, areas, and more. Using IP-based access control systems, you can individually control which individuals have access to various secured areas and assets, and have real-time visibility into access and occupancy events as they occur.
Our IP Access Control solutions include:
IP based controllers for doors, turnstiles, and entryways, including electronic strikes and magnetic locks
IP and web-based management and reporting consoles
Integration with our IP Video solutions for centralized management and reporting