Network Design
We provide affordable, enterprise-level solutions to small and medium businesses. Our expertise and experience in the field, coupled with strategic partnerships with leading techology vendors allow us to provide you the best possible solutions, at prices you can afford.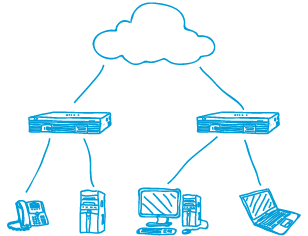 Featured Tour
LAN/WAN Networks


Core & Access Networking

Telecom Consulting


WAN, Internet & Voice

Wireless Networks


WiFi, Point-to-Point
LAN/WAN Networks
A healthy and well-designed network is crucial to an efficient IT organization, and not having an adequate network can quite literally slow you down. We offer a wide range of network design services to support your business:
Access Network
There are great deal of factors that go into the design and implementation of an effective LAN access layer - subscription levels, Quality of Service, connection medium, and more.
Some important factors to consider include:
What types of clients must you support?
What are their data needs?
What type of reliability do they require?
What kind of bandwidth do your clients use? What will they need in the future?
What kind of services does your network provide (data, voice, storage)?
How will you prioritize and guarantee traffic?
Our network design services include an analysis of your current usage, application types, bandwidth and latency requirements, and more - all the important factors in designing an appropriately-sized network that can scale with your business.
Core Network
Your core network is the backbone of the data transfer within your company. For many organizations, the core network resides within their datacenter. It not only needs to support the transfer of information between your core network endpoints, it needs to be reliable and resilient.
Some important factors to consider include:
Where is your data, and how do users get to it?
Can your network efficiently support the flow of information?
How resilient must your network be, and how many failures can it tolerate?
Do you have a Disaster Recovery plan, and does it include your core network?
We can help you design a new core network, as well as assess existing networks and recommend upgrades or reconfigurations.
Telecom Consulting
Making sure you have the right telecom services can be difficult, especially with ever-changing technology and bandwidth requirements. Netgrade can help determine what services you require for your internet and WAN needs and work with carriers to obtain the best service at the most reasonable cost to your business.
Internet Connectivity
All businesses require connectivity to the internet, but there are a wide range of ways to connect. From business-class cable and fiber services to redundant Dedicated Internet Access (DIA), your business requirements and processes are a large factor in determining the right configuration.
WAN Connectivity
Businesses with multiple locations need a fast, secure connection to make resources available company-wide. We can help identify the right connection type and routing requirements for your business, build your network topology, and deploy the solution from start to finish. Our WAN solutions include technologies such as:
Metro Ethernet (Metro-E) connections
MPLS - Mulitprotocol Label Switching
VPLS - Virtual Private LAN Service
Point-to-Point and Point-to-Multipoint connections
Private IP
Merged Wireless/Wired WAN
VoIP/Analog Telecom
We can design and configure voice networks, including those based on analog technologies up to fully-IP based telecom networks. We will help you determine where your voice usage is occurring, and identify ways for your organization to save money by consolidating services or migrating to IP-based solutions. We can design solutions including:
POTS/Copper-based public telephone (PSTN) connections
Primary Rate Interface (PRI) and Basic Rate Interface (BRI) connections (T1/E1, etc)
SIP-based IP telephony
PBX migration and trunking
Wireless Networks
Wireless networks are everywhere, and just about every mobile device on the market makes use of wireless connectivity. Businesses small and large are discovering the productivity benefits of networks that extend beyond the wall jack. Where computers were once bulky and tethered to a large portion of a desk, todays systems are small and highly mobile. As such, computers and their users tend to travel, and the wireless network must follow. The key to an effective & secure wireless network is in the planning and implementation, especially in light of the amount of potential interference and degredation that can result from the large amount of access points that may already be present in many locations. We are able to provide a wide variety of WiFi planning, design, and implemention, including:
Building/Office Wireless Networks
Planning a useful wireless network requires consideration of multiple different factors, including total area and building materials, existing wireless networks, client density, and much more. Our Wifi specialists can perform an extensive evaluation of your buildings current conditions and design a system that works best in your environment.
Education Wireless Networks
Modern school wireless networks propose a few interesting challenges. Typically, device usage is dense and administrators are faced with the task of handling more and more wireless devices on their network. As iPads and iPods work their way into the classroom alongside laptop carts and other wireless devices, it is important to scale the network to handle these devices, as well as ensure the networks our secure. We understand the issues schools face when deploying wireless networks, and will prepare a solution that addresses typical considerations and concerns when deployed in an educational environment.
Hospitality Wireless Networks
In the hospitality industry, wireless network access is no longer an amenity, it is an expectation. However, hospitality wifi deployments must take into consideration some unique requirements, including the ability to handle high client turnover and access expiration. Our team is familiar with these requirements unique to the hospitality industry and can ensure your network will remain easy to use for your guests.
Outdoor and Point-to-Point Wireless Networks
Users want to be able to use their wireless devices everywhere, including outside. Deploying wireless coverage in wide open spaces is a great way to push the bounds of the network beyond the conventional spaces, but it requires some additional consideration and planning. Our team will work with you to ensure the outdoor wireless network addresses your specific requirements and provides the best experience for your users. We can also design and install user-paid hotspot services for businesses looking to provide paid-access wireless coverage.